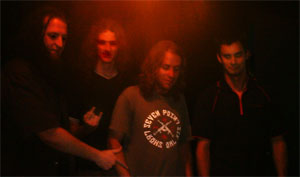 MEMBERS:
Kristov Short - Gatz/Vox
Murray - Bass/Vox
Maximus - Drumz
Mr Sin - Vocals

BIO:
Hellborne formed in August 2002 from other local bands including Sense_, 7.62 Short, The Hendersons and Turbostill.
They have been gigging since November 2002, and were a National Battle of the Bands finalist in 2003.
They've released two albums - 'Raping of Society' in July 2003, with seven original tracks and three remixes. The second album 'Fuck You' was released in July 2005, and contains seven original Thrash n' Roll tracks and two live tracks recorded at Swampfest 2005.

MUSIC VIDEOS -

Click to view in new window
$$$, Power, Hate